Bianca Miller-Cole: Personal branding and Netorking (90minutes)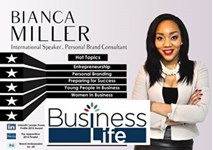 Bianca Miller-Cole is an award-winning Entrepreneur, having started The Be Group in 2012 with the belief that all individuals should be able to access personal development services. Bianca has developed her company into the 'go to' business for personal branding success. The business has an impressive list of clients including HSBC, Accenture, AMEX, Olswang LLP, Google, BT, EY, LSE and Kings College London to name a few... Read her biography here: http://biancamiller.uk/biography/ https://www.instagram.com/biancamillerofficial/
Training is sponsored by the Brunel Business School flagship student development programme; Brunel Business Life. Students from any discipline across Brunel University can register and attend a one, two or three of the 3 module employability course.
Aimed at
Anyone transitioning from student to workplace.
Aims & Objectives
This is more in depth tutorial and workshop that will enable you to actively develop a personal brand to improve your confidence in the outside world - particularly when looking for employment.
We are charging a small administration fee of £10 per workshop or £25 for all 3.
Next date
You must login to see and book workshop dates.
Login
No dates available
There are no dates currently scheduled for this workshop.