BEST CONNECTIONS - Keynote & Personal Branding workshop with Bianca Miller-Cole
BEST CONNECTIONS - Keynote & Personal Branding workshop with Bianca Miller-Cole
Please note there is a small entrance fee of £10 per person.
VENUE: ESGW111

Bianca Miller - Cole is an award-winning Entrepreneur, having started The Be Group in 2012 with the belief that all individuals should be able to access personal development services. Bianca has developed her company into the 'go to' business for personal branding success. The business has an impressive list of clients including HSBC, Accenture, AMEX, Olswang LLP, Google, BT, EY, LSE and Kings College London etc.
Bianca became known as a public face after an excellent performance on BBC business competition, The Apprentice in 2014. Bianca battled in the final, becoming runner up but that has not stopped her progress and her idea for a diverse range of nude hosiery became a reality when 'Bianca Miller London' launched online in November 2015 and internationally with Topshop in AW16 and now is stocked in Morleys Stores, Topshop and QVC.

In January 2016 Bianca was awarded a prestigious 'Power Profile' from Linked In as one of the top 10 most powerful leaders in the UK out of 20 million members. Bianca's desire to change the 'nude' landscape had her labelled in the media as a 'women's fashion visionary' she has been recently named one of Forbes lists 30 under 30 and has recently co-authored the Amazon bestselling book; Self Made: The Definitive Guide to Business Start-up Success.
Aimed at
Anyone interested in developing their own personal brand or listening to an inspirational entrepreneurial, top 30 under 30, celebrated business woman and published author.
Aims & Objectives
Starting at 6-7.30pm in ESGW Auditorium.
Please register yourself for a place and follow this link to complete your £10 ticket fee: Purchase tickets here
The workshop includes an overview of all 4 aspects of the acronym P.A.C.K. (Presentation, Approach, Communication and Knowledge).
Those who attend the session should be able to come away with take home tips that will enable them to implement their own personal branding strategy, finding, keeping and building a network that can be used whilst looking for employment and during their career.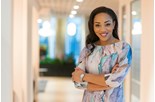 In the session we cover: what networking is, the importance of building a network, how to network, breaking into formed groups, exiting a conversation, building a new relationship and continuing networking opportunities within social media.
Please note that those students who took part in the transition programme with Bianca Miller-Cole in Term 2 are exempt from paying the above fee.
All ticket holders will automatically gain entry in to the BEST Connections Drinks reception and Alumni, industry speed networking event following.

Next date
You must login to see and book workshop dates.
Login
No dates available
There are no dates currently scheduled for this workshop.